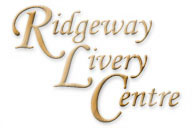 Ridgeway Livery Centre is easy to find and conveniently located on the B4220 Malvern to Bromyard Road.
Directions to Ridgeway Livery Centre
From Ledbury take the B4214 then the B4220 to Bromyard. 8 Miles.
From Malvern take B4219 to Hereford road, then B4220 to Bromyard. 6 Miles.
From Bromyard 6 miles on B4220.
From Worcester take A4103 towards Hereford then B4220 to Bromyard. 12 Miles.
From Hereford take the A4103 to Worcester then left on B4220 to Bromyard. 17 Miles.
There is plenty of off road parking on site within our secure well-lit area, which is right next to the livery and arena complex.
To find out more, please call Christine, Richard or James Kuehn at Ridgeway Livery Centre
Telephone: 01886 880259 or email us by clicking here